There are lots of icon templates in the internet. However, there is only few created specially for Sketch that are worth using. Some high quality resources try to scale App Icon created in the artboard which is converted to a Sketch symbol, to export it. But, it does not work well with shapes with rounded corners or strokes. There are also some that requires copying, scaling and pasting one icon design into the multiple artboards, but this is a tedious process. The main purpose of creating following App Icon Template was need to simplify whole work.
Why the template is created for Sketch
Sketch is a software created for UI and UX Designers. In contrast to Photoshop or Illustrator, Adobe software made to do all sort of things connected graphic design. It was prepared specially to make User Interface design process as convenient as possible. Thanks to this Sketch is fast and easy to configure. It is becoming the market standard for app creators.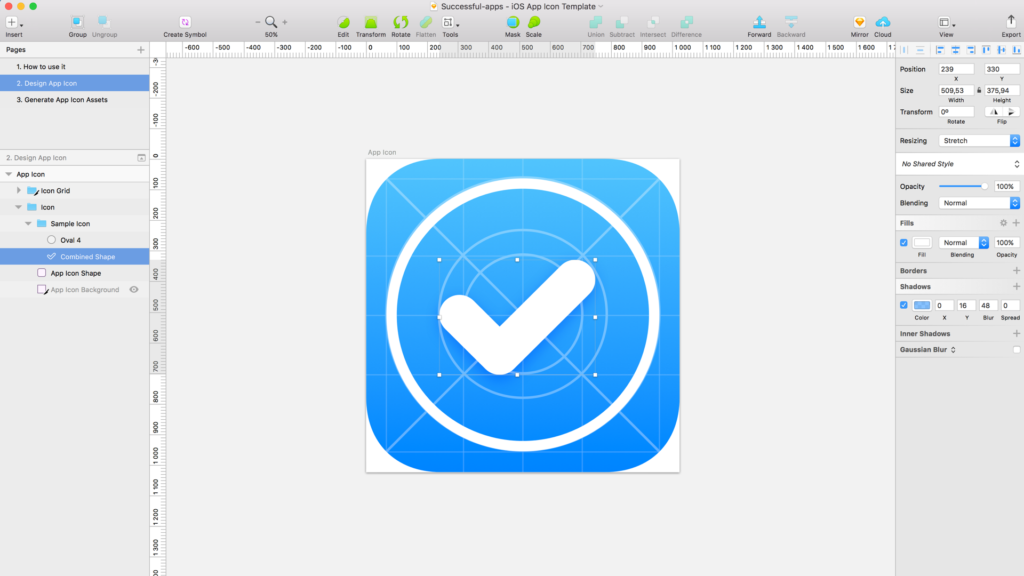 Why is it worth to use the template
There are many icon templates that generate only few assets. iOS App Icon Template from UXMisfit.com exports icon into all required and optional sizes of graphic assets mentioned by Apple in Official Documentation. What is more, the template is also quick to use, there is no need to copy and scale icon design multiple times. Additionally with this file you do not have to worry to convert lines to shapes like in the ones which use symbol to generate graphics for all sizes.
How to use it
Leonardo da Vinci said that "Simplicity is ultimate sophistication". This rule was applied to this App Icon Template. After opening the file in Sketch you will be able to read some simple instructions that will explain how to use the template. In a few words, there is a second artboard where you design the app icon in a full resolution with icon grid. This is the most important part. Next you copy the whole design (without grid lines) to the next artboard. Scale your work to 100x100px size and fit into "Assets/App Icon/" artboard. Now all assets may be generated by clicking one export button.
How to get the iOS App Icon Template
Icon template is completely free for personal and commercial use It is available to download after subscribing to the newsletter of the blog. I hope you will find this resources useful while designing assets for your mobile app.
You can join to the subscribers of Newsletter to get template now, just click here.